Fujitsu ScanSnap SV600 Scanner
The Fujitsu ScanSnap SV600 contactless scanner provides a new perspective on document scanning. Easily scan newspapers, magazines, documents or books directly without cutting or damaging them.
One-button overhead scanning technology
Scans bound material and flat documents
Scans an A3 size area in less than 3 seconds
CCD optic with fast LED illumination
Book curve image-flattening technology
Erase finger from image function
Auto crop, de-skew and rotation features
Auto page-turn detection sensor
Timed interval scanning mode
USB 2.0 connectivity
Searchable PDF, PDF and JPEG creation
Single scan multiple document cropping function
Additionally, the Fujitsu ScanSnap SV600 scanner comes with Rack2-Filer Smart For Windows® users. Rack2-Filer Smart is a feature-rich scanning and content viewing application incorporating an ultra-intuitive bookcase and binder interface that gives users a familiar and enjoyable interaction with their scanned paperwork
Scan PDF and JPG files directly into binders
Drag binders from one cabinet to another
Apply pictures to make binders distinctive
Flip through pages or jump to a section
Create divider sheets for organizing content
Use the highlighter tool with color palette
Attach digital sticky notes to pages
Easily highlight and stamp pages
OCR binders to search by keyword or phrase
Use magnification tool to see finer details
Select ImageWriter to print content into binder
The Fujitsu ScanSnap SV600 scanner makes overhead scanning simple, providing users with limitless possibilities. Scan:
Books
Magazines
Delicate documents
Original Designs
Business Cards
A3-size documents
Redefining what a document scanner can do!
Scan business cards to large A3 size (double-letter) documents
Multiple Document Detection
Easily create your own digital books
ScanSnap Folder
More Ways to Scan to the cloud
For more information, view the brochure
Functional Specifications

Fujitsu ScanSnap SV600 scanner

Scanner Type
Over Head system, simplex scanning
Light Source
(White LED + lens illumination) x 2
Optical Resolution
Horizontal scanning: 285 to 218 dpi,
Vertical scanning: 283 to 152 dpi
Scanning Speed
3 seconds per page
Document Size
Automatically recognizes document size,A3 (landscape), A4 (landscape), A5 (landscape) A6 (landscape), B4 (landscape), B5 (landscape), B6 (landscape), Post Card, Business Card, Double Letter (landscape), Letter, Legal (landscape) and Customized size (Max: 432 x 300 mm (17.0 x 11.8 in.), Min: 25.4 x 25.4mm (1 x 1 in.)
| | |
| --- | --- |
| Physical Specifications | Fujitsu ScanSnap SV600 scanner |
| Power Requirements | AC 100 V to 240 V, 50 Hz / 60 Hz |
| Power Consumption | 20 W or less |
| Dimensions (WxDxH) | 210 mm x 156 mm x 383 mm |
| Weight | 3 kg (6.61 lb.) |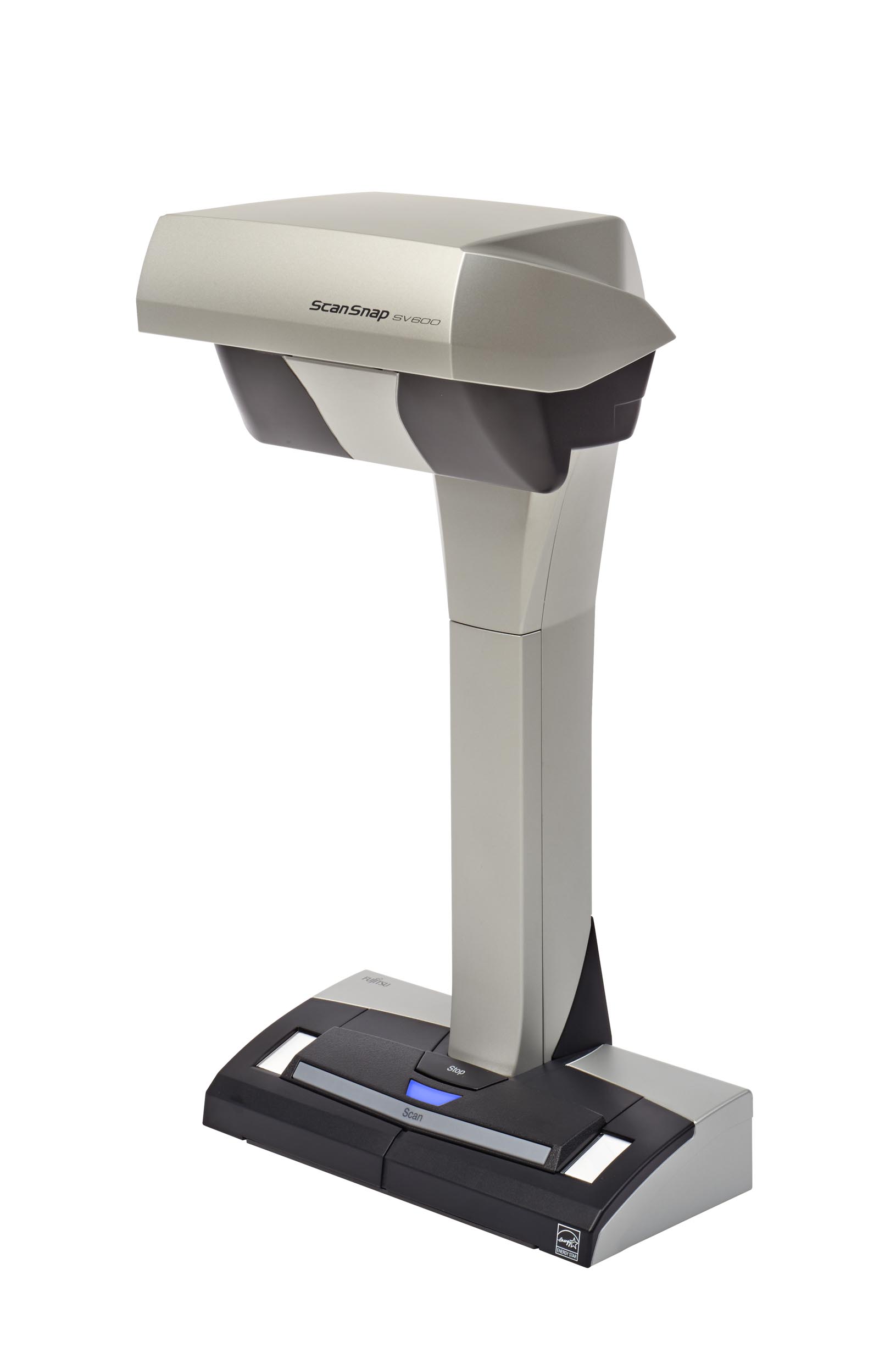 List Price: $995.00
Commercial Price: $858.00